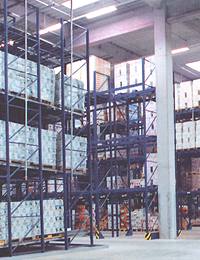 As an example Warehousing costs may be distributed in the following manner:
40% - Building
40% - Personell
10% - Rack Structure
10% - Forklift Vehicles
It follows that space reduction to the absolute minimum requires a more detailed and precise planning.
It is equally important to minimize the traffic aisles and staging areas as well as reducing the storage areas.
The Planning also requires a balance between various related factors to achieve a comprehensive solution.
Building: Height vs. Area - depending on the geographical region - the same building volume with a reduced surface area and higher ceiling height can be less costly to build.
Fire Protection: at certain storage heights a sprinkler system may be required
Safety: corporate and insurance concerns as well as a general safety awareness drive the safety system requirements - most narrow aisle systems have included a planned safety profile while general traffic contends with rules of the road
Vehicles: the forklift truck selection is based on lift height, capacity, throughput capability and aisle requirements all other items being equal
To what depth does the forklift selection have an influence on the overall warehouse design - please check out the Planning Examples.