| | | | |
| --- | --- | --- | --- |
| | | | |
| | | Model WA | |
| | | | |
| | | Professional Materials Handling Co., Inc. | |
| | | Phone: (407) 677-0040 USA | |
| | | Fax: (407) 678-0273 USA | |
| | | | |
| | | for more information on this product click on the info email link above | |
| | | | |
| | | For additional information - Please click on the graphics representing your equipment choice ! | |
| | | | |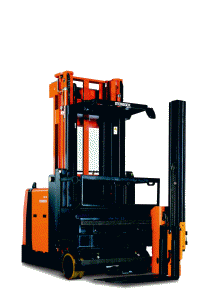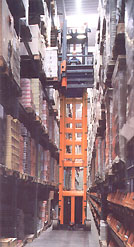 The WA model stacks full pallet loads with a man to goods operation.
The Man-Up Depotlift Models WA 13, and WA 15 sold and supported under the PMH STEINBOCK® brand name are considered unique in their class. With over 30 years of experience and history in the US, PMH provides unparalleled sales, technical and parts support for these models. For complete sales support on the family of Depotlift vehicles and prompt service, contact PMH or your local STEINBOCK® PMH authorized dealer.
Unit loads up to 3300 lbs are moved, however if orderpicking or engineered design solutions are required, review our EK series custom built vehicles. Custom built solutions at very a competitive price.
With lifting heights up to 45 feet, these trucks can make good use of any storage space structure. The model WA can get as much as 100% more pallet storage over conventional counter-balanced fork lifts utilizing the same area. Planning a new warehouse or updating an existing one, let your PMH professionals assist you with the design, integration, and implementation of the suitable vehicle model.
A captive narrow aisle system requires reliability and performance. The model WA excels in utilizing remote diagnostics - diagonal travel (forward / backward motion while elevating or lowering at maximum travel speeds).
Economics
Every detail was carefully considered in making the operators compartment a comfortable work space. The cabin, with its ideally placed controls, unobstructed view to all sides of the truck and adjustable floating seat, assures long productive hours without operator fatigue.
...and leading edge components
The electronic steering works feather light, maintenance free and is an energy miser. The latest in electronic/hydraulic ~ac flow control without proportional valves, combined with end-dampening features, assure smooth controlled hydraulic movements. The CAN-Bus integrated 3 computer system controls the ~AC brushless Drive and Lift motors. The forklift provides the ultimate in battery cycle efficiency recovering power when braking or lowering the main mast.
Link to additional description and features of the WA & specifications can be obtained by clicking on WA specs
Problem solving through experience
Select PMH as a partner in design and implementation of your warehouse requirements.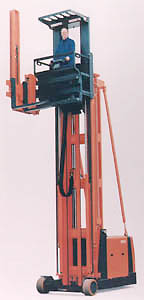 Our engineering staff will assist with the design of the warehouse, space utilization, rack layout and optimization. Capacity and throughput analysis determine the vehicle requirements. PMH has the right truck to fit your application. Supported options include engineered freezer conditioning, enclosed operator cabs, rail guidance, wire guidance, telescopic forks, barcode scanner/terminal integration and warehouse communication, full driverless automation.
Our system engineers are problem solvers, they are available for advise on a wide variety of material handling topics, as well as recommending the correct vehicle for the specific warehouse layout. Their knowledge reflects years of company wide material handling experience with numerous applications. Why not ask for their opinion or a facility layout - its free!
Warehouse safety is important to us, we offer optional automatic end of aisle slow down or stops, pedestrian detection in front/rear of the vehicle as well as below the raised cab, which can slow or stop the vehicle in motion completely.
Connection to a warehouse computer via PMH link software would allow the facility to update inventories, direct material flow, and control emerging traffic patterns. Additional capabilities include driverless control of the vehicle all from a PC based system.