DS Series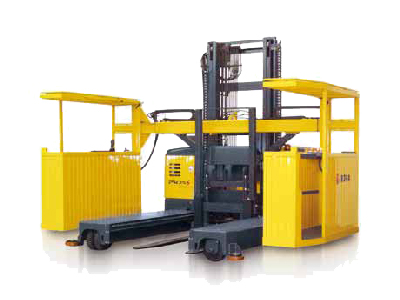 EK Order Selecting Turret Forklift Trucks
EV Order Selectors with Auxiliary Lift
BP/Fiora - electric Man-up Sideloading Forklift Trucks
EV Order Picker custom built cab and vehicle
EV enclosed fixed order picking platform
Order Selecting forklift enclosed and open operator comparments
DS Double CAB Order Selecting Sideloading Forklift
Designed for long load picking within the narrow aisle. Requires two operators when picking long loads. Both enclosed operator cabin can be extended to suit the load length. Cabs rotate inward to present the width of the cab to the load when desired. Manueverabilty and operation based on the PK single cab man-up sideloader. Both cabins require hands on control operation with fully integrated safety interlocks.
Let our sales engineers assist you with your application. Your never far from assistance with PMH.

Request a Brochure to learn
more about the products and options PMH offers.
Dealer or Sales Information interested in selling PMH
products.