Navigation Products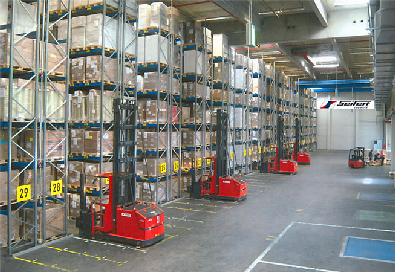 Warehouse Navigation
As an aid to the operator we offer a comprehensive warehouse navigation system and supporting software.
Building blocks include a stand alone locator system. Manual task entry on the vehicle touch screen or linked to an inventory control via RF, for automatic tasking.
Logistic software in the form of vehicle control, inventory control, task control, and complete warehouse management.
Vehicles can be adopted and system scaled to suit the customer requirements. Warehouse Pilot System
Additional vehicle aids include a simple height selection or the advanced fully integrated height selector with optional automatic load / unload feature.
One step further the Warehouse Pilot directs the operator to the desired destination via individual tasks to complete transport orders. Next step would be to incorporate automatic travel and fork control (operator remains aboard - to supervise each task). Verification achieved via measurement systems that confirm that the forks are at the desired horizontal and vertical location oriented to the proper aisle side. Additional verification can be achieved with RFID or Bar Code Labels to further reduce pick / storage errors.
Further development can mean a completly driverless turret truck - NO problem please link to the - MAYESTO to read about our driverless vehicle.


Request a Brochure to learn
more about the products and options PMH offers.
Dealer or Sales Information interested in selling PMH
products.