Transfer Cars & Devices

Shuttl Cars & Systems
As support for Highbay Storage installations Professional Materials Handling offers a variety of custom built transfer systems. Transfer cars with or without lifting devices, self propelled on 2 or all wheel drive, pulled for extreme acceleration. Available with or without sensor systems, wiring etc the way you want or design it.
Many devices are fitted to AS/RS or VNA (Very Narrow Aisle) Turret Truck systems.
Installed in applications that require precision handling, the load handling devices are unique to the individual application. If you have an application or requirement, let our sales engineers assist you with our knowledge base. Your never far from assistance with PMH.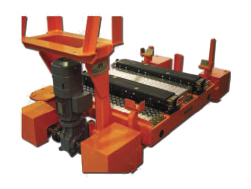 Request a Brochure to learn
more about the products and options PMH offers.
Dealer or Sales Information interested in selling PMH
products.